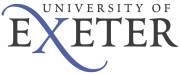 Graduate School of Education
Welcome to CyberGrammar!
This site is designed to support and develop knowledge of grammar and to indicate its relevance in the classroom. There are four clear principles underpinning the design:



Click on one of the tabs at the top of the page to choose where to visit. For more info on using the site, click here.


This site is under constant revision - click here to send us your comments.
Teachers need secure understanding of grammar in order to be able to teach it effectively and to cope with the questions pupils ask.
Learning grammar sometimes needs practice to ensure full understanding.
Knowing grammatical terms is a means to an end, not an end in itself: it is important to consider the teaching implications of given grammatical terminology.
Computer technology can be a useful teaching tool which permits independent and flexible learning.
You are advised to read the pages on how to use the site before starting, and if you encounter any problems while you are using the site, please click the 'help' link at the bottom of each page!
Debra Myhill